STORMARN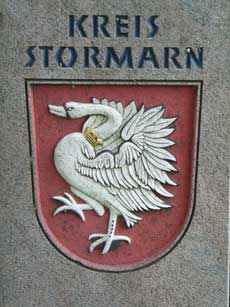 Where Schleswig-Holstein kisses Hamburg. Here, nature has created a region with a lot of charm.
This landscape created by glaciers of melting waters of the ice age has its own appeal. Lakes, forests and framed fields have given this region its name "Stormarner Schweiz" (Stormarn Switzerland). Stormarn is more than just a stop-over for tourists who want to travel to the Baltic Sea. Stromarn is Hamburg's attractive front garden. It is an insider's tip! Castles, lakes, mills, fields, forests, natural resorts and the rural character of the villages mark this region's beauty. Großensee - the biggest lake of this three-lakes-plateau is right in the centre of this charming region.

Top 5 sights of Stormarn
1 Stormarn's three-lakes-plateau Großensee, Lütjensee, Mönchsteich
Swimming, biking and hiking in this beautiful seascape

2 Ahrensburg -Hamburg's beautiful twin city (11 kilometres distance)
Visit the magnificent Ahrensburg palace and its gardens

3 Trittau - On the traits of Napoleon (3 kilometres away)
Napoleon's bridge at the Trittau's water mill Also ideal for shopping

4 Great nature protection area Hahnheide (5 kilometres away)
Visit the "Langer Otto", a beautiful lookout on Stormarn's highest hill. On the banks of Hohenfelde to Stahmer's inn.

5 Village museum Hoisdorf (7 kilometres away)
Village life at its best. Tip: Stop-over at Siek's church.

Other interesting destinations in Stormarn
Bad Oldesloe - Stormarn's regional capital (30 kilometres away)
The famous manor house Oldesloe-Blumendorf is worth a visit. Also see it's market place. Tip: Visit the Glacehaus - dining within a green house.

Basthorst - the property of the noble family Ruffin (11 kilometres away)
A cultural centre, with or without Vicky Leaondros; its markets and concerts are legendary.

German-Film-Production-Setting "Büttenwarder" (5 kilometres away)
This you find in Göhnwohld. The wire mill of Gröhnewohld is a historical monument.

Tremsbüttel castle and its garden (24 kilometres away)
Baroque park Jersbek (14 kilometres away)
Various mills in the area:
The water mill in Grande (5 kilometres away)
The windmill in Braake (6 kilometres away)
The windmill of Hamfelde is a nice restaurant now (6 kilometres away)
More interesting Objectives at Stormarn: www.stormerland.de
and: www.tourismus-stormarn.de