Glamping-Tipi (2 to 6 persons)
Our new acquisition: the spectacular tepee. On spacious 20 square meters you can experience the original life in nature. Overlooking a nice paddock or the lake. Open the roof and look at the stars and treetops. Experience a 10 minute drive from the cosmopolitan city of Hamburg, country life and campfires. Ideal for couples, families and small groups.
Unwind, unplug, reconnect with family or friends and yourself and come and join us for a glamping holiday!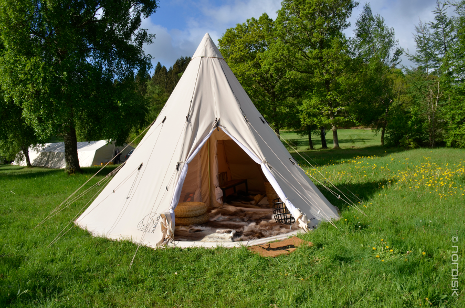 The price includes:
5 kg firewood (value: 5,- EUR), use of high-quality open fire bowl and a swivel grill
2 cozy booth chairs and rustic seating for 4 people
Cuddly fur floors
Flexible interior design: 1 large room or 2 cabins available
Duvets + pillows (do not forget to bring favorite linens!)
Including direct access to the natural pool Großensee (value: 7,- EUR per day)
Free WIFI (value: 5,- EUR per day)
Free drinks in popular pub "Dorfkrug" (value: 10,- EUR)
Prices
Request / Reservation
You have to stay at least 2 nights with us.